Challenge Goal Exceeded. Thank YOU So Very Much.
Thank you for making this year's September Challenge a historic success! For the fourth year in a row, you showed up for individuals and families at risk of or experiencing homelessness in DC. We raised over $72,000, with nearly 200 donations throughout the Challenge. 
We reached this successful milestone thanks to our AMAZING September Challenge Sponsors, Benefactor Circle, and Committee members, our staff, volunteers, donors, event hosts & participants, fundraisers, online auction partners & participants, and our many social media ambassadors. We know the need to raise critical funds to support people facing homelessness is more urgent than ever. Everyone played a vital role in ensuring this campaign's success. Thank you.
In addition to the funds raised, check out some of the other highlights of Everyone Home DC's September Challenge:
We are incredibly honored to welcome back three Lead Sponsors this year. Please give a lot of love to

Christ Church + Washington Parish on Capitol Hill, The Jeanne Phil Meg Team at Compass,

and the

National Capital Bank

.

In the final weeks, we welcomed five new supporters at the Benefactor Circle and Sponsor levels, raising an additional $5,500. Thanks to Capitol Hill Presbyterian Church, Cheryl Vance, Anthony Amato, Anne & Roy Phillips, Anne Stone, and Geetha & Keith Waehrer joining the Challenge. You can see all of this year's amazing September Challenge sponsors below, and be on the lookout for our celebration advertisement in the October Hill Rag.

Everyone Home DC's online auction raised over $12,000, making it the most successful auction in our history. This year there was a total of 332 bids

placed on 100 items. Additionally, we hosted our inaugural

Final Countdown

auction close-out party and had a blast celebrating the end of the auction with good friends, noisemakers, and bubbly!

The

September Challenge Leaderboard had five active fundraisers that raised nearly $10,000. This year's top fundraisers were Edith & Mark Sherman, Alison Harwood & Chuck Rohe, Abby Sypek, and Pat Joseph. Thanks to ALL for sharing your time and enthusiasm with this year's September Challenge!
Thank you for joining Everyone Home DC in this critical month-long campaign supporting our mission to ensure everyone in our city has access to safe, affordable, and comfortable homes. It is the responsibility of each of us to end homelessness in Washington, DC, and build the welcoming and inclusive community we believe is possible. We could not do this work without you, and we are so glad you are here. Thank you!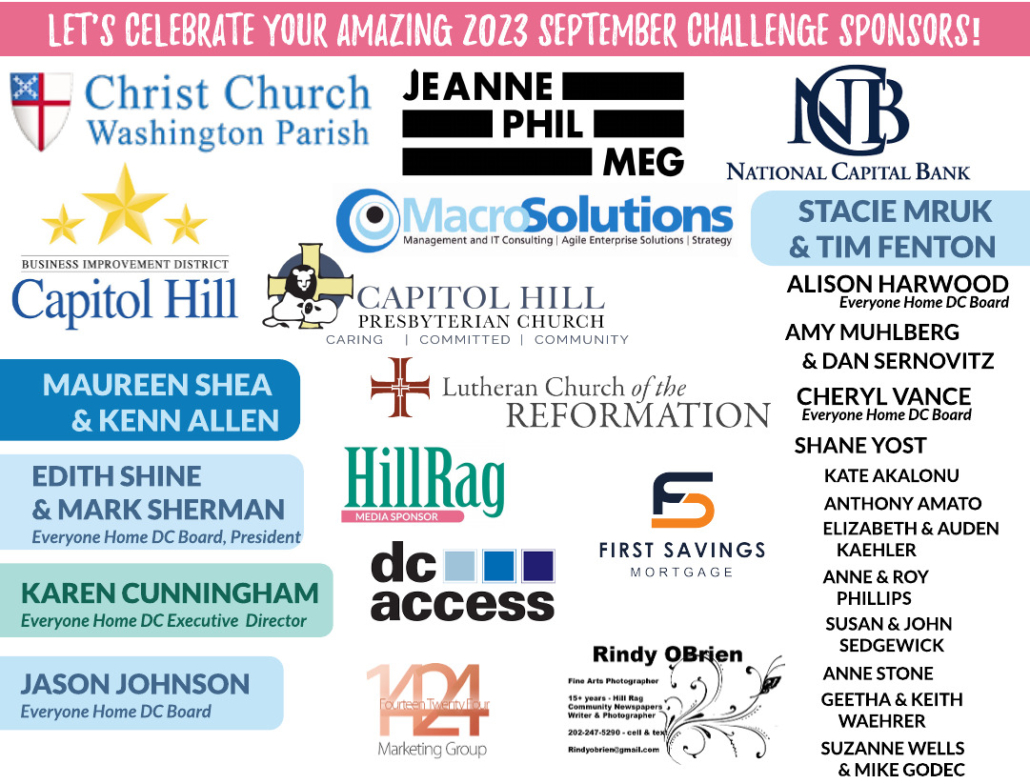 https://everyonehomedc.org/wp-content/uploads/2023/10/Website-News-845x320-Untitled-Page-2.jpeg
667
1760
Everyone Home DC
https://everyonehomedc.org/wp-content/uploads/2019/03/ehdc-logo.png
Everyone Home DC
2023-10-04 12:31:08
2023-10-04 13:14:11
Challenge Goal Exceeded. Thank YOU So Very Much.