September Challenge by the Numbers
Today, on this beautiful first day of October, we celebrate the success of our first-ever digital campaign—September Challenge, in the Spirit of Sip and Savor. Together, we raised nearly $70,000, with close to 400 donations made throughout the month.
Not being able to host our signature fundraising event—Sip and Savor—this year was truly heartbreaking, especially when the need to raise critical funds to support people facing homelessness is even more urgent due to the global health pandemic. Thank you for pivoting with Everyone Home DC so gracefully to ensure we reached our goal. And, thank you for showing up for individuals and families at risk of or experiencing homelessness in DC during this time of extreme uncertainty!
We would not have seen this success if it wasn't for our AMAZING September Challenge Sponsors, Benefactor Circle, and Committee members; our staff, volunteers, donors, event hosts & participants, fundraisers, online auction partners & participants, and many social media ambassadors. Everyone played a critical role in ensuring this campaign's success. Thank you.
In addition to the funds raised, check out Everyone Home DC's September Challenge by the numbers.
Last night in the final hours, Stacie and Tim's fundraiser in support of Everyone Home DC climbed five spots on the leaderboard to take the number one spot, raising more than $6,000.
Seventeen sponsors returned to support our efforts, even though this year looked incredibly different from our usual Sip and Savor event, and we welcomed three new sponsors.
Fourteen families joined our Benefactor Circle.
Everyone Home DC's staff participated in a little friendly September Challenge competition and blew past their goal of $10,000 to collectively raise nearly $18,000.
There were ten events hosted this September that welcomed nearly 200 people and raised almost $8,000. Two more events are coming up this weekend. Learn more below. We would love to see you there!
Everyone Home DC's first-ever online auction raised more than $5,000.
Twenty-four fundraisers were created in support of Everyone Home DC's September Challenge goal!
It is the responsibility of each of us to end homelessness in Washington, DC and build the welcoming and inclusive community our founders believed is possible. Thank you for joining Everyone Home DC as we continue the work of ensuring all people have access to safe, affordable, and comfortable homes in Washington, DC. We are so glad you are here!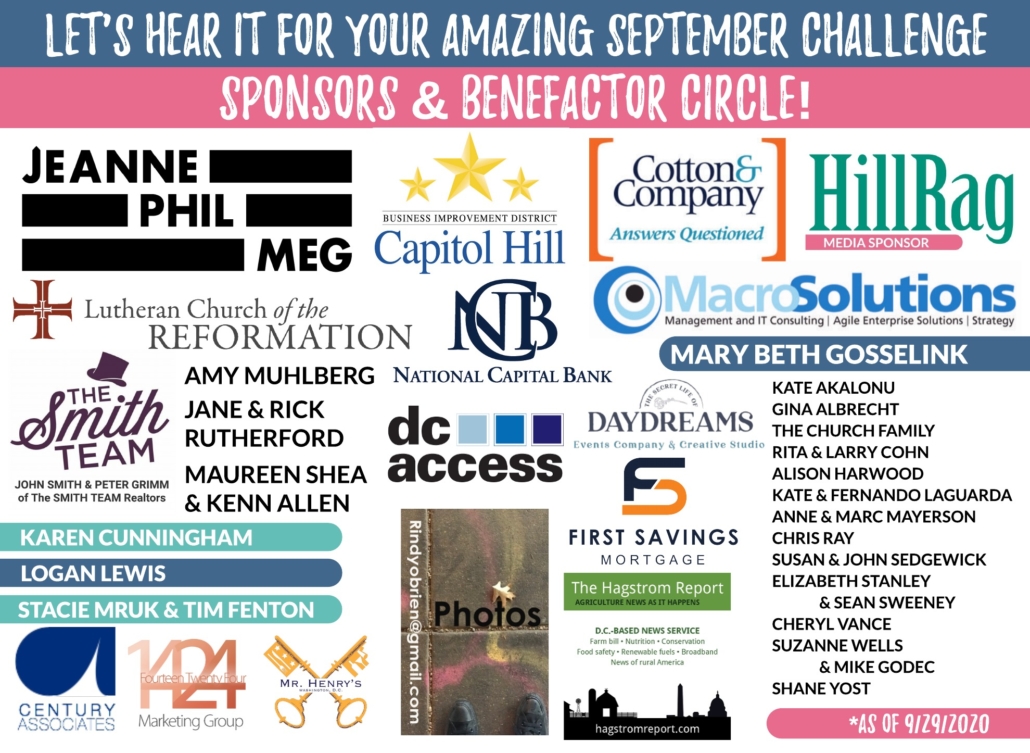 https://everyonehomedc.org/wp-content/uploads/2020/07/SeptemberChallengeWebBanner-scaled.jpeg
969
2560
KateAkalonu
https://everyonehomedc.org/wp-content/uploads/2019/03/ehdc-logo.png
KateAkalonu
2020-10-01 14:35:05
2020-10-02 14:37:43
September Challenge by the Numbers