Support a birthday wish—to raise critical funds for individuals staying outside—in coming true!
Kate and Maya are new friends to Everyone Home DC. And within the last year, they have been so touched and inspired by Everyone Home DC's vision of our city as a thriving and diverse community where all people can obtain and remain in safe, affordable, and comfortable homes that they decided to dedicate their shared June birthday month to raising critical funds for Everyone Home DC.
SUPPORT THIS WISH & MAKE A DONATION TODAY!
Kate started working for Everyone Home DC last August as our Director of Strategic Initiatives, bringing more than 10 years of nonprofit leadership and experience to our
organization. Alongside Everyone Home DC's dedicated staff, she is responsible for building the organization's visibility, impact, and financial resources. Her oldest child, Maya, is nearing completion of the third grade and is Kate's loudest cheerleader and a committed Everyone Home DC ambassador. Additionally, Maya is a concerned DC citizen when it comes to homelessness, affordable housing, and food insecurity. Maya most recently wrote her 3rd grade opinion piece writing project on homelessness and deployed with Everyone Home DC's volunteer outreach program, HART. She is anxious to deploy again.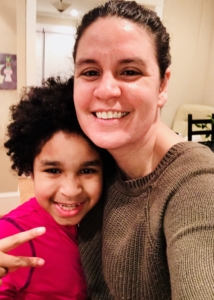 Their birthday wish fundraising goal is small, yet meaningful. Combining their ages (Kate turned 40 on June 1 and Maya is turning 9 on June 29) and adding a zero, they are hoping to raise $490 in support of Everyone Home DC's Street Outreach program. A program that provides critical and life-saving support to individuals staying outside AND is entirely funded by the generosity of donors like YOU.
We encourage you to visit their fundraising page, read their story, watch their videos, and help make their birthday wish come true by making a donation today!
INTERESTED IN STARTING YOUR OWN BIRTHDAY FUNDRAISER? You can easily get started by visiting Everyone Home DC's Mightycause page and selecting the "Fundraise" button right under our logo and name. Then follow the prompts and within minutes, you can share your Everyone Home DC story and goal with your friends and family. If you have any questions or need any support, email Kate at akalonu@everyonehomedc.org.
https://everyonehomedc.org/wp-content/uploads/2019/06/Maya-Birthday-Website.jpeg
1333
3521
Everyone Home DC
https://everyonehomedc.org/wp-content/uploads/2019/03/ehdc-logo.png
Everyone Home DC
2019-06-23 14:37:24
2019-08-26 06:16:32
Make a Birthday Wish Come True!