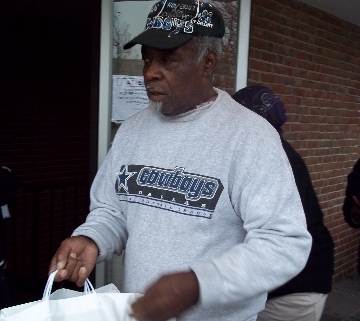 Well it looks like Thanksgiving has come and gone and once again we did it! No I'm not referring to eating nearly our entire weight in turkey and stuffing or even that part about consuming our entire recommended daily caloric intake in sweet potato pie. Those are still hopefully our "little" secrets.
What I am referring to is that once again the Capitol Hill Group Ministry (CHGM) with our Thanks-GIVING Food Basket sponsors and donors have succeeded helping provide more than 1,432 members of our Capitol Hill community with a wonderful Thanksgiving Day meal with all the trimmings.
This year CHGM received record demand in request from the community for thanksgiving food baskets. This increase totaled to just over 600 individuals over last year with the bulk of the increase coming from our senior citizens. Throughout the October and November months our Shirley's Place office was full to the brim with neighbors in need submitting their requests, conducting needs assessment interviews, and checking on the status of their name on the waiting lists.
Thankfully, CHGM's Congregational Partners, local Community Based Groups, and individual sponsors heard the communities call and were able to answer it. Longtime friends and partners such as Mothers on the Hill (MOTH), St. Monica & St. James, and Christ Church all made significant contributions to help CHGM meet this year's demand.
Beyond the large groups that made contributions individual sponsorships significantly increased over previous years. Many of these individuals indicated that they had found out about the Food Basket Drive from the November issue of the Hill Rag and would like to help in any way they could. Volunteerism with this year's distribution event significantly increased.
Shelah Wilcox, CHGM Special Events Manager, commented that "One of the best parts of our Thank-GIVING Food Basket Program is contacting each of the families and hearing how relieved and excited that there family would be able to have a Thanksgiving meal." She added that "With the help of our partners, sponsors, and everyone who gave of their time, energy and finances, 1,432 were made able for families on Thanksgiving."
Indeed the success of the 2011 Thanks-Giving Food Basket Program has given all of Capitol Hill something to be thankful for. So congratulations sponsors, donors, friends and Hill Rag readers for helping make this year's food basket drive the best one to date… and the rest of our Thanksgiving celebration shame can remain our "little" secret.
https://everyonehomedc.org/wp-content/uploads/2011/04/100_0810.jpg
480
360
Everyone Home DC
https://everyonehomedc.org/wp-content/uploads/2019/03/ehdc-logo.png
Everyone Home DC
2011-04-11 15:10:24
2019-04-18 09:19:17
2011 Capitol Hill Group Ministry Thanks-GIVING Food Basket Results