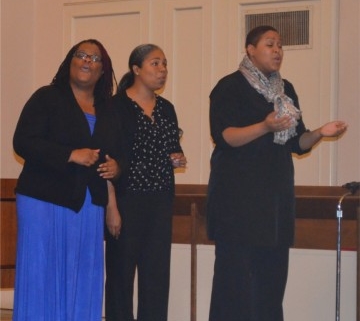 CHGM's 9th Annual Thanksgiving Interfaith Service- Update
Capitol Hill Group Ministry (CHGM) held our 9th Annual Thanksgiving Interfaith Service on Sunday, November 18th, at Capitol Hill United Methodist Church.
The 9th Annual Thanksgiving Interfaith Service celebrated CHGM's 45th year of faithful partnership with the community. During our celebration of service, we recognized and spotlighted outstanding neighborhood volunteers and the causes they have championed through the gifts of their time, talent, voice, and expertise to help strengthen the Capitol Hill community.
This years' service included the recognition of 18 outstanding volunteers, the Volunteer Taxpayer Clinic, and the 2nd Annual Ruth Rappaport Wisdom award honoree Durinda O'Brien.
Volunteer services ranged from the running of local food banks and meal programs to visiting sick and shut-in neighbors in our community. Nominated by their home congregations, each volunteer has made great strides in upholding CHGM's motto to "Serve the Community, One Neighbor at a Time".
CHGM proudly acknowledged the 40 years of faithful and dependable service that the Free Tax
Clinic has given to the Capitol Hill community. Founded by Rick Halberstein and Former CHGM Executive Director Rev. Ed Goode, the volunteer-led Tax Clinic brought an important service free of charge to neighbors who could not afford mainstream tax companies or simply needed
the extra care and attention of a friendly professional.
Finally, the Ruth Rappaport Wisdom award, which honors volunteers who have displayed remarkable warmth, wisdom, and commitment to the Capitol Hill Community, was awarded to Durinda O'Brien. When Durinda O'Brien joined CHGM's Board of Directors in 2006, she immediately joined the Executive Committee and the team that led the search to hire our current Executive Director, Barfonce Baldwin.
As Board Treasurer, she was instrumental in putting "best practices" into place to get CHGM financially fit. She later took over as President, where her leadership and expertise led the organization to greater community recognition, including as a finalist for the 2011 "Hilly" award for outstanding non-profit.
Rindy finished her Board term at the end of 2011, but she still actively participates and consistently gives of her time. CHGM is just one of her many passions—she has been active in numerous non-profits and is a prolific writer and photographer. She has been an asset to CHGM, the Capitol Hill community, and a friend to all.
https://everyonehomedc.org/wp-content/uploads/2012/11/2012-Thanksgiving-Interfaith-Service-360x347.jpg
347
360
Everyone Home DC
https://everyonehomedc.org/wp-content/uploads/2019/03/ehdc-logo.png
Everyone Home DC
2012-11-11 16:04:54
2019-04-18 09:17:27
CHGM's 9th Annual Thanksgiving Interfaith Service- Update